Home
›
Products
›
Unbranded-litzman-classics-bundle-print-lcb-pr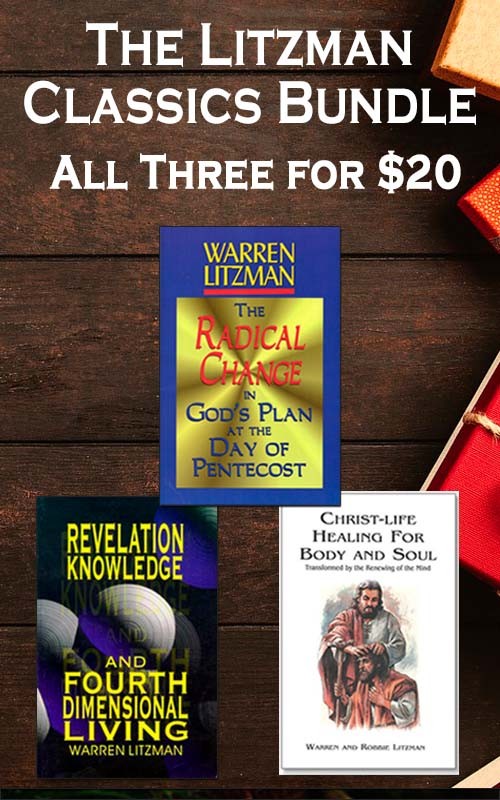 Litzman Classics Bundle - PRINT
$20.00
USD
Product Code: LCB-PR
Description:
Order online for shipping within North America.
For international orders,
click here to check with your regional CLF representative.
Three great print books by Warren Litzman!
Christ-life Healing for Body and Soul
Focus on the Father's purpose in healing His children at the point where they need it most: the mind, heart, soul. Reading this book renews the mind so the existing faith, the Christ-faith that resides in every believer, will have a channel through which to flow. The Christ within the believer is the healer, for by His stripes we are healed (1 Peter 2:24). As you read this mind-renewing book, you will release His faith and His healing power. Because, you see, the key is faith, the "faith of the Son of God" (Gal. 2:20), not faith generated through your self-effort.
Format: Paperback
Number of Pages: 232 pages
Publication Date: 2003
Revelation Knowledge and Fourth Dimensional Living
Anyone who pursues the fullness of Christ will find that the knowledge and understanding of Christ as the life of the believer is inexhaustible. The Holy Spirit keeps leading the hungry heart to spiritual food on a daily basis. This continuing, progressive revelation of Christ is the subject of this book. This is where dimensional living comes into focus. You can see Christ in a way commensurate to the Father's eternal plan as you have never before seen it. Your reading of this message will make the statement the Apostle Paul made in Ephesians 4:20, "But ye have not so learned Christ," come to a vivid possibility. Those who are committed to pressing on into a "father-level understanding," which is knowing Christ from the beginning, will be amply fed.
Format: Paperback
Number of Pages: 143
Publication Date: 1996
The Radical Change in God's Plan at the Day of Pentecost
From before Creation, God's ultimate plan included a radical turn on the Day of Pentecost. This turn moved salvation from law-based to grace-based and began including Gentiles, but more than this, it also moved believers into a more intimate relationship with God as Father. For such radical changes to commence on the Day of Pentecost, two important things took place. First, the heavenly Father sent the Holy Spirit to place believers in Christ (1 Cor. 12:13; Eph. 1:4) and to teach and guide believers. Second, since the Father had placed all sinners in Christ at the Cross (Rom. 6:6; Gal. 2:20), when Christ died, all sinners, equally died to their old life and could now be saved by simply believing on the Lord Jesus Christ. A new gospel began; it was the in-Christ phenomenon—believers in Christ and Christ in believers.
Format: Paperback
Number of Pages: 89
Publication Date: 2008